Reward and Retention Strategies within Business Services
Our new talent research in partnership with Totum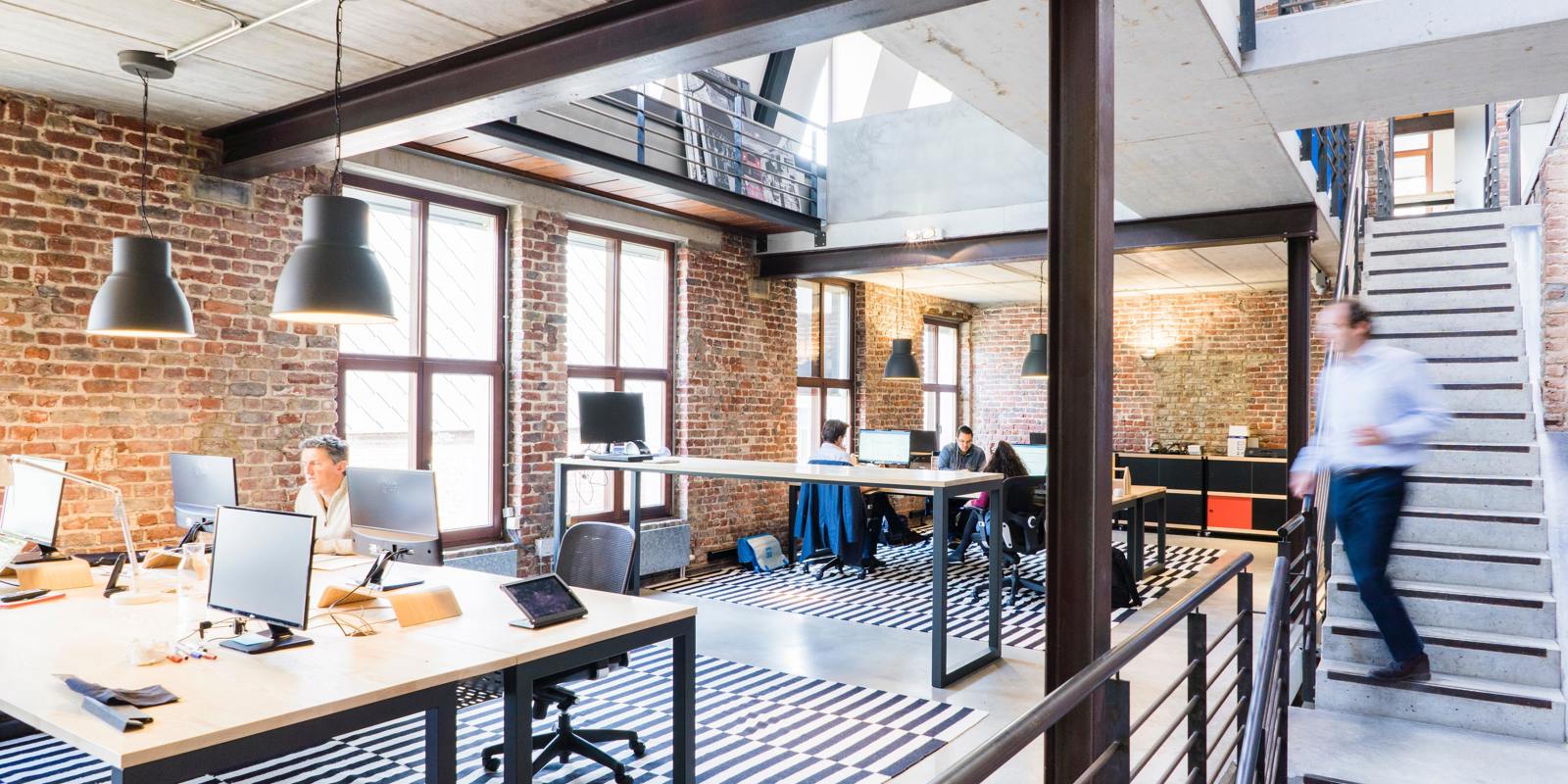 Law firms are competing hard on salaries, bonuses and benefits to secure the best business skills and capabilities from within the professional services sector and beyond.
That is one of the main learnings from Lamp House Strategy's recent partnership with recruitment firm Totum on its Business Services Reward Survey 2023.
This exhaustive research tells law firms everything they could possibly want to know about reward and retention strategies in business services – with our overall findings spanning 500,000 data points in total!
Firms who participated in this survey received an in-depth report covering all of our findings – as well as detailed dashboards to benchmark salary and bonus levels against peer firms and across function, role and region – and we are delighted to share a glimpse into some of highlights from this new research.
Read on to learn more, including a look at the latest trends in the industry's emerging Responsible Business departments.
What is Totum's Business Services Reward Survey?
Totum and Lamp House Strategy's research explores reward strategies and structures in business services functions across the legal sector. Specifically, we collected data on salaries, bonuses, benefits, cost-of-living payments, and more.
Over 40 firms participated in this year's survey, including 13 of the UK Top-20 firms  and almost half of the UK Top 50.
Here's how it works:
Towards the end of 2022, each participating firm shared comprehensive salary and staffing data for different job bands and roles within business services functions.
Firms also completed an online survey providing more qualitative insight and context into the different reward and recruitment/retention strategies pursued within their firm.
As a result, the survey amassed 500,000 data points, covering 13,000 roles and 10 different functions:
Finance
General Operations
Knowledge Management
Legal Operations
BD and Marketing
People and HR
Real Estate and Facilities
Responsible Business
Risk and Compliance
Technology
All participants received detailed information on the figures themselves, as well as context and insight into what they tell us about changing market trends. This commentary also highlighted the aspects of business services currently standing out for particular investment.
The aim throughout was to share knowledge to support decision-making around compensation structures, as well as reveal deeper market shifts that may influence recruitment and retention strategies in the future.
The findings also spanned titles across an array of disciplines, including many that are relatively new to business services functions in the legal sector – for example, marketing technology and systems, content management, digital marketing, reward and compensation, legal project management, innovation, change and transformation, ESG and sustainability, diversity equity and inclusivity.
Tim Skipper, the Founding Director at Totum, felt now was a particularly interesting time to refresh this research and to focus on these emerging functions:
"The past two years have seen a considerable increase in salaries of business services staff at all levels. This has reflected both the importance now for firms to have the best available people across all functions as well as a talent shortage. 
We are also pleased to now be capturing data in a wide range of new and emerging functions and it will be interesting to see how these salaries settle into a market norm as more and more firms invest in them."
Overall salary trends within Business Services
Looking at some the overall trends within our research…
The Finance function in the legal sector leads the way in terms of salaries, particularly at the most senior Director and Chief Financial Officer (CFO) level.
But, other business services functions are not far behind in the salary stakes.
Alongside a rising number of Chief Operating Officers (COOs) and CFOs, the survey shows more Chief Marketing Officers (CMOs), Chief People Officers (CPOs) and Chief Technology Officers (CTOs) making up the C-Suite across modern business services functions.
Not only do these titles themselves reflect the growing importance of business services professionals to the modern legal business, but their salaries, bonuses and benefits – detailed in the survey – showcase the full potential for career development and growth across today's business services teams.
Spotlight on: Responsible Business Departments
For the first time this year, Totum's research looked at the emerging Responsible Business function.
Two thirds of firms participating in our survey had at least one dedicated role in this function.
We are also seeing more specialist roles rapidly appearing around Diversity, Equity & Inclusivity (DEI), ESG, Sustainability, and Responsible Business more broadly.
In this edition of the Business Services Reward Survey, roles in the Responsible Business function were split as follows:
52% were classed as Corporate/Responsible Business roles
29% were DEI roles
16% were ESG/Sustainability roles.
Across all 41 firms surveyed, there were only four people in Wellbeing-specific roles and two people in Pro Bono specific roles (although, it is likely other roles have these responsibilities within their job description, if not their specific title.)
Of the firms that did have Responsible Business staff, most employed between 1 and 4 people. The largest Responsible Business department in our survey had 19 people in total. 
The flip side of this is there is still just under a third of firms from our survey which had zero dedicated Responsible Business staff within their firm.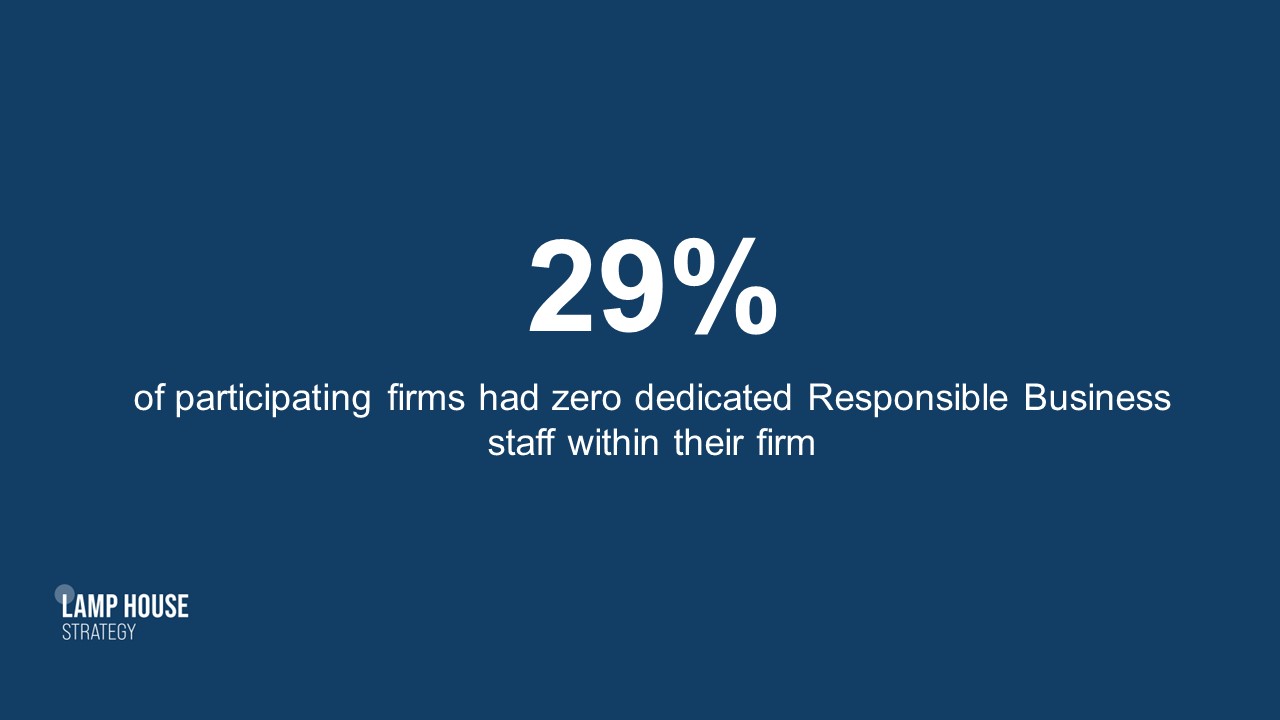 This is particularly interesting given clients are exerting greater demand on firms to show authentic commitment and action towards the responsible business agenda.
Lamp House Strategy's recent research with UK GCs found that 96% of in-house legal leaders believe organisations need to prioritise ESG and invest in the transition to becoming more sustainable. However, only 22% of GCs believe their preferred law firm is genuinely committed to ESG.

The skillset and leadership qualities of responsible business professionals looks set to be in demand given clients' desire to see real, meaningful action from firms in this space, and we look forward to tracking developments in this function over the next few years.
 Looking ahead
This year's Reward Survey is the first in what will be an annual research project, enabling us to provide year-on-year comparisons and ever-deeper insights into the development of business services roles and teams.
We have been delighted to work alongside Totum on this initiative. Our ambition is to keep developing this product, to expand the coverage, provide more granular insights and make it easier for firms to take part.
We would like to thank all of the firms who participated in this year's research, and we have been particularly pleased to receive your positive feedback on this year's process and outputs.  
We hope to have your support and participation next year!
Would you like to know how your firm's reward and retention strategies measure up? Contact [email protected] to get involved in the next Totum Business Services Reward Survey.