Fieldfisher: Becoming A Purpose-Led Law Firm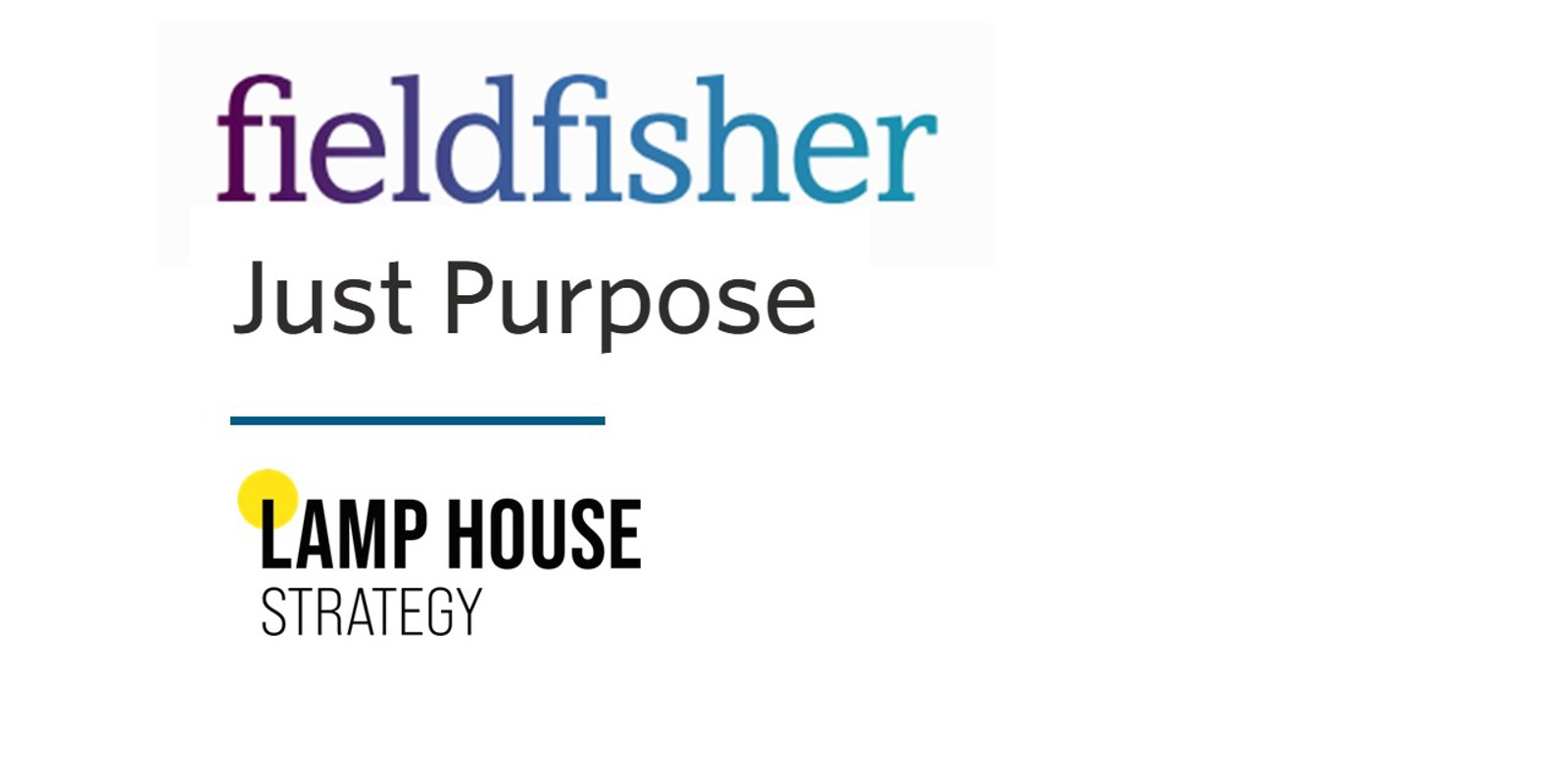 The latest case study in our series looks at purpose.
Lamp House Strategy's evaluation of the Top 50 UK firms found purpose is something law firms struggle with, particularly communicating this outwardly: just over 10% of firms in our analysis had a clearly articulated purpose beyond profit in their external messaging.
However, Fieldfisher is one firm which is elevating purpose to become a core element of its overall strategy.
We spoke to Millie Hawes, Head of Just Purpose, the department that oversees the firm's social impact activities at Fieldfisher, to understand more about the firm's approach.
Millie joined Fieldfisher in 2018. Since then, Just Purpose has grown from a team of two people to seven dedicated individuals whose sole focus is furthering the firm's purpose through environmental and social impact activities. Millie previously worked in the charity sector and is a disability rights activist. She founded Fieldfisher's disability inclusion programme, called Discover, for which the firm won the Disability Initiative of the Year Award at the Women & Diversity in Law Awards (Global Legal Post) in 2023.
Overview of the programme
Just Purpose is Fieldfisher's societal impact programme, with the key pillars comprising pro bono and community activities. The programme runs in tandem with the firm's Sustainability initiative, which focuses on how the firm can reduce its carbon footprint and make a positive environmental impact.
Within this, there are more specific focus points – all of which have been chosen in consultation with the firm's people – to guide the firm's community and pro bono activity:
Spearheading systemic change with disabled people
Protecting refugees' and asylum seekers' rights
Promoting the rights of children and young people
Strengthening civil society organisations and start-ups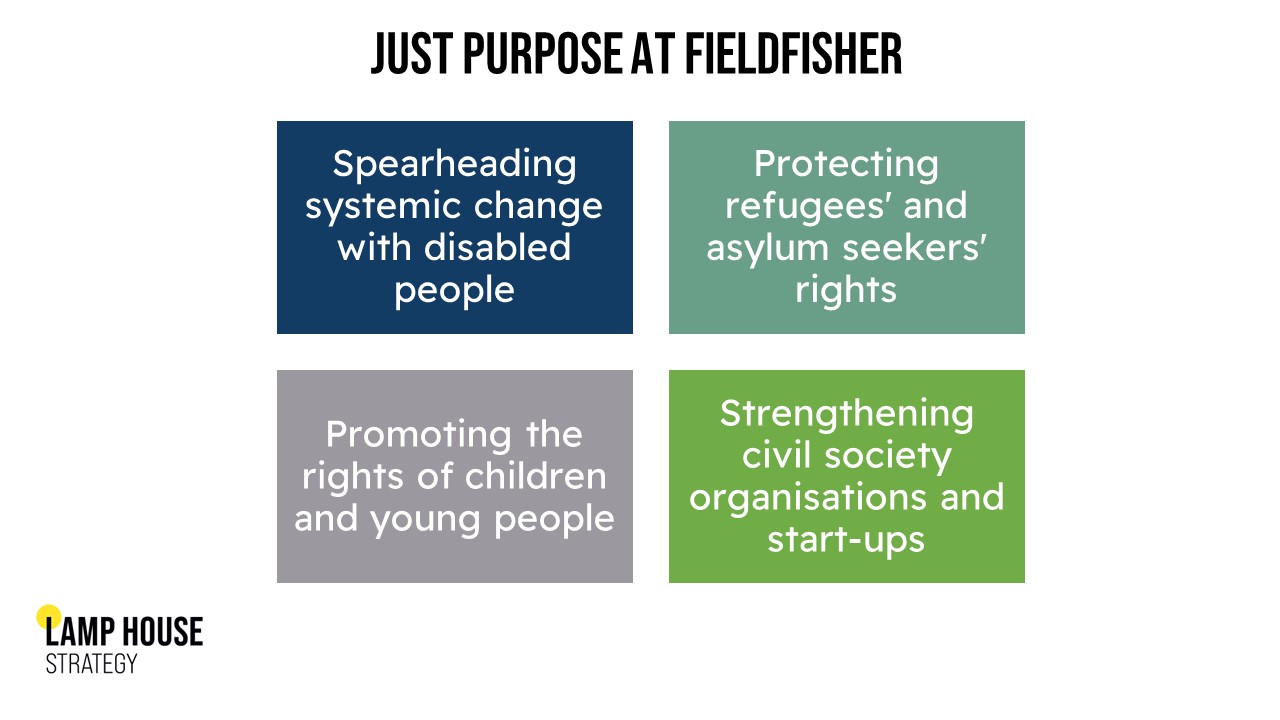 The overall aim of Just Purpose is to equip people at the firm with the support, skills and resources they need to make a greater impact on their wider community. It is squarely anchored in the needs of its stakeholders, striving to build a more just and equitable society that pushes boundaries and adapts to evolving communities.  
Five ways in which the firm is embedding Just Purpose:
1. Changing the language
When Millie joined, the Corporate Responsibility (CR) team was rebranded to become Just Purpose. Whereas CR could be perceived to "fit in a neat little box", Purpose is something much bigger which permeates the entire firm and creates space for everyone to get involved.
2. Operationalising purpose
To help as many people get involved as possible, each department in the firm has a Just Purpose liaison, making the entire programme more visible at a firm-wide level. Teams are also given autonomy to design and direct their own programmes and pro bono support, with Just Purpose there to support them to make it happen.
3. Stakeholder consultation
Each office has been asked to vote on the charities it would like to support as part of the community pillar.
There are also wider, regular to surveys to understand more about what the firm's people value; for example, a recent survey based around the United Nations Sustainable Development Goals sought to understand what people felt was the most pressing societal issue.
4. Open to all
Pro bono hours count towards fee-earners' billable hours at Fieldfisher and all employees are encouraged to take three working days to do skills-based volunteering or fundraising.
5. Elevating the strategic importance of purpose
Above all, Just Purpose is aligned with the firm's overall strategy. Following Robert Shooter's election to Managing Partner in 2022, embracing ESG is now an integral part of the European strategy and one of the three new values of Fieldfisher.
 Highlights from the programme 
 The 'One Firm Action Campaign' has been the most successful cross-office campaign to date.
Each office has a tangible fundraising target to get involved in the community, with the global target of raising £250,000 over the year. Millie thinks the shared experience this provides has helped to really motivate and enthuse people across the firm.
Future direction
Across its European network, Fieldfisher is working to develop a more streamlined, formalised strategy for Just Purpose.
The firm is looking at how it can better track and measure its pro bono contribution in hours, although for Millie it is more important to develop case studies that clearly show how the firm has had a tangible impact on individuals and the wider community. A key aspect of the firm's culture is putting people first and ensuring all activities are people-led. With this as the backdrop for all Just Purpose activities, it is crucial that the impact of the programme is measured through stories, not just abstract numbers.
The ultimate aim for Millie, and Fieldfisher, is to be known throughout the European legal sector for its strong ESG credentials, with recognition for its pro bono, community and sustainability initiatives.
Challenges
 For Millie, the main challenges of running Just Purpose are:
Wanting to tackle every global and local issue affecting our communities, but having to be realistic about what causes the firm will have most impact upon
 Helping the firm's people understand what they can do within the sustainability pillar while navigating the challenges of climate anxiety and uncertainty
Climate action was voted the most important societal issue in one of the firm's surveys; despite widespread agreement it was important, it remains "psychologically challenging" for individuals and organisations to deal with as there are no "golden ticket solutions." The firm is looking at ways to help people understand their role in addressing climate change; for example, working with The Chancery Lane Project is one way in which lawyers are encouraged to play their part.
 Advice
 We asked Millie what advice she would give to other law firms looking to launch, or improve, initiatives within their firm:
Bake purpose into the firm's overall strategy
 "It has got to be part of the firmwide strategy, that's really important. If it hasn't got that top-level steer, it's never going to feel authentic and never going to be given the priority it deserves".
Let people 'own' purpose themselves
"We have also had a huge amount of success recently with redesigning our values; it was a significant consultation exercise, getting feedback on what people wanted the firm's values to be, and the number one thing that came out of that was that we are people-led."
"You have got to be led by people in your firm and also the community – you can't parachute in thinking you know best."
 Getting engagement starts with using the right language
"That's something that me and my predecessors have been incredibly passionate about – making sure we are using the right language so it isn't a fluffy, extra-curricular tick box exercise, that's not what this is about. This is about finding purpose in community-led initiatives and using our resources and our skills in a way that is going to drive action. Our guiding principle is that we, as Just Purpose, are built around people and progress."